Fire Crews were called to Kelsale Hall, a 19th Century manor house near Saxmundham, Suffolk, at 17:45 GMT on Wednesday 15th February 2017.
It is thought the blaze started in a tumble dryer and spread through the house, destroying most of the building.
The property was occupied at the time but those inside managed to escape and there were no reports of any injuries, the fire service said.
Thirty-five response vehicles and 80 firefighters were called out to deal with the blaze at its height.
Ian Bowell from Suffolk Fire and Rescue said: "Whilst I say it was a tumble dryer, I think we should allow the investigation to completely exhaust all other options.
"But early indications yes, it was a tumble dryer seen to be alight.
"It's certainly not being treated as suspicious but it is early stages of the investigation."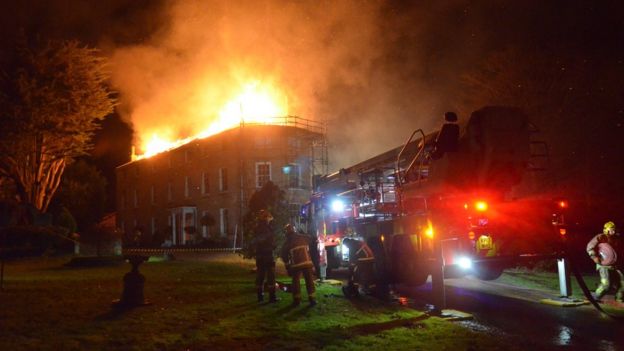 The blaze started on the ground floor of the house.
The fire service said, due to the construction of the building, the fire spread through the voids into the basement and up two storeys to the roof.
Firefighters used water from a nearby pond and a hydrant supply on the A12 to tackle the flames.
"It was totally unsafe to go in there," Mr Bowell added.
"It's a sad loss and we haven't been able to save as much as we would like. But given the circumstances, we've done our best."
Tumble dryers are notorious for catching fire so here a few pointers from Matt Smith, Director of Safe Workforce Solutions Ltd & ex firefighter:
Make sure you register any new appliances so if there are any product safety recalls you will be notified;
Ensure filters are cleaned out regularly (ie, remove your fluff!);
Avoid running the appliance off an extension lead;
Regularly carry out visual checks such as the condition of the mains cable, check behind the appliance to make sure no combustible material has fallen behind it;
If you are a business owner it must be PAT tested by a qualified person;
Never leave the tumble dryer running when you go to bed, if a fire does start it may be too late by the time you realise there is a problem.
http://press.hse.gov.uk/release-type/press/